Heather and Stephen Pray for Rain
Heather and Stephen Pray for Rain
Posted on Friday, February 9th, 2018 at 9:56 am by Haley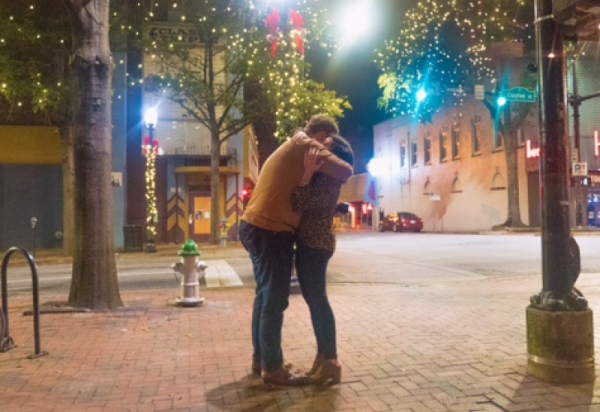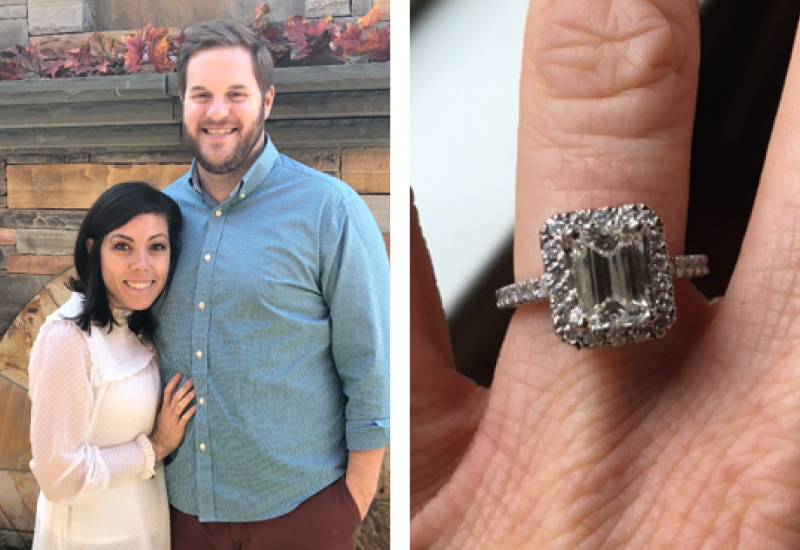 Heather received an early Christmas present when her fiancé, Stephen, proposed to her just 4 days before Christmas. Heather and Stephen met while working together at Zaxby's. Stephen came into a store while Heather was working to film training videos and their love story began!
Heather, who is a graduate of Georgia College & State University, is a huge Georgia Bulldogs fan. She grew up in Athens, and her mom has worked for the University of Georgia for more than 20 years. Her fiancé graduated from UGA, so cheering for the Bulldogs was definitely one thing in common, but it was much more than their shared love for UGA that told Heather that she wanted to marry Stephen.
During the summer of 2017, the couple took a 10-day Alaskan cruise with Stephen's family. Heather watched him interact with his family, and got a chance to get to know him and his family during the cruise. She knew after spending quality time with 13 members of his family in such a confined space that she had found the one for her.
Stephen knew he had found the one for him, as well, and he planned a proposal that Heather wouldn't forget. The couple ate dinner in downtown Athens on a cold December night, and after dinner, they left to get drinks at Allgood Lounge. Heather remembers her feet hurting that night, but Stephen insisted they take the long way so they could walk under the Christmas lights. After walking a little way down the street, Stephen stopped Heather, took her hands, told her how much he loved her, and then dropped down on one knee. And of course, she said yes. Heather didn't know this, but Stephen had told all her family and friends about his engagement plans, and they were waiting to celebrate the good news with them at Allgood that night.
Although the time and place of the engagement was a surprise for Heather, the couple knew exactly where they wanted her ring to come from, Tena's Fine Diamonds and Jewelry. They went into Tena's and met Tammy, a staff member, who helped them find exactly what they were looking for. Heather says they knew they didn't want to buy a ring from anywhere else, and Tena's didn't disappoint.
Because Heather and Stephen chose to buy their ring from Tena's, the couple had the option to register for Pray for Rain. The Pray for Rain campaign encourages engaged couples to pray for rain on their wedding day, because if it rains one inch or more, the store will reimburse the couple with an in-store credit for the amount they paid for the engagement ring, up to $5,000.
If it does rain on their wedding day, the couple says they will use the money to buy each other something nice. Heather says she would let Stephen have the nicer of the gifts because she already has a beautiful ring.
Tena's Fine Diamonds has been serving Georgia since 1965, and with four locations – Athens, Elberton, Hartwell, and Washington – the jewelry store continues to help couples like Heather Hobus and Stephen Jenkins make their wedding dreams come true. For more information about Tena's, please visit tenas.com.
Pray for Rain is offered at all four Tena's locations. The original purchaser of the engagement ring will be reimbursed with an in-store credit if the rainfall, measured by WSGC'S airport rain gauge, reaches one inch or more. The rain is measured within a 24-hour period on the day of the couple's wedding. If you are interested in learning more about Pray for Rain, please visit one of the Tena's locations.