Tips to keep your jewelry in top shape fro...
Tips to keep your jewelry in top shape from The News and Observer
Posted on Tuesday, April 3rd, 2018 at 11:17 am by Haley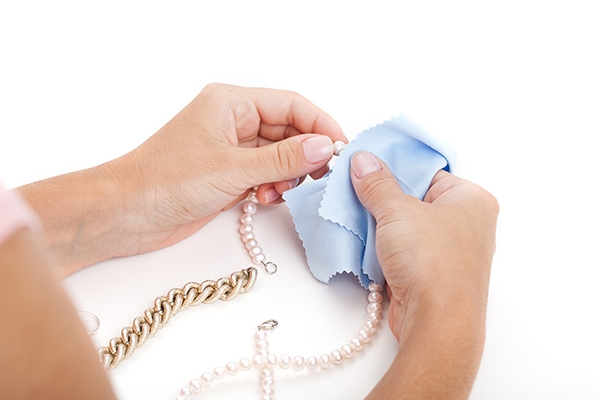 Keep Jewelry in top shape with easy steps
By: Kristen Barber, The News & Observer (Raleigh, N.C.)
We all have our favorite jewelry – may it's a a piece we save to wear for a special occasion or something we wear everyday. Taking proper care of those piece isn't always top of mind, but its important and easy!
We talked to local jewelry experts Donna Hankins of Cary, N.C.'s Joint Venture Jewelry and Trey Bailey of Bailey's Fine Jewelry to get some easy tips on how to properly wear, store and clean jewelry to ensure that it will last forever.
INSPECT JEWELRY OFTEN:
Hankin recommends you inspect fine jewelry every 3 to 6 moths – you can do it yourself or take it to a jeweler. Pay close attention to loose stone and bent prongs. Take pieces to a jewelry as soon as you fin something out of place. Jewelry should also be inspected after cleaning. Built up grime can form between a stone and its prongs, so once the grime is cleaned away, the stone could become lose.
SPRING FOR A GOOD CLEANER:
Most jewelry stores sell a reasonable priced cleaner. Though there are DIY jewelry cleaner recipes online, Bailey suggests you go ahead and pay for the certified stuff. But be sure to check the labels for what jewelry is OK to put into the cleaner. "Don't let silver just sit," Bailey says. "Just dip it in and wash it off with water. If you leave it in for hours or days it can come out black.
If you mess up, don't worry; jewelers can correct most jewelry cleaning mishaps. And jewelers will inspect and clean fine jewelry pieces at no charge. Jewelers use hot pressure steam and ultrasonic cleaners to remove tough-to-reach grime and bring the sparkle back to dull pieces. It is important to note that these machines cannot be used for silver or soft stones like emeralds, turquoise, pearls or opals.
STORAGE MATTERS:
Catchalls and decorative boxes might be a stylish way to show off or store your jewelry, but they can cause serious damage. Storing different types of metals and stones together can lead to tangling, scratching, and even tarnishing. Our experts recommend using a jewelry roll or an organizer that has an individual pouch for each piece. For extra protection, look for organizers that are lined with tarnish resistant cloth.
CARE FOR POROUS AND SOFT STONES:
Pearls are staples in the South, whether in stud earrings or long necklace strands. But semi-precious stones are extremely delicate, and their soft outer shells are susceptible to many daily abuses.
Grime can easily affix to pearls, causing them to lose their luster. Pearls should only be wiped clean with a soft cloth like a chamois, usually sold in jewelry stores. Soap and water or jewelry cleaner should never be used to clean pearls because they can deteriorate the outer shell.
And since pearls are usually strung on a silk strand, they should never be stored hanging as this can stretch out the silk and cause undesired spacing between the stones.
Like pearls, soft stones such as opals and corral should never be stored in dry places. These stones need moisture, and can actually crack if kept in a dry place or if they sit in the sun too long. "We have customers that bring us heirloom pearls or opals that have sat in a safety deposit box and have been ruined," Bailey says.
DON'T LET DEAD WATCHES SIT:
High- end time pieces, especially older ones, need to be handled with care. If the battery dies in your watch, replace it as soon as you can. Letting a watch sit for a long time without moving could affect its ability to tell time properly. If you have an older watch that requires a winder, Bailey recommends asking a jeweler to do it for you. If you wind it yourself, do some research to find out the direction it needs to be wound and how often.
KNOW WHEN TO TAKE IT OFF:
"As a general rule, jewelry should be the last thing you put on before you walk out of the door and the first thing you take off when you get home," Hankin says. And sometimes, it shouldn't be worn at all.
Wearing jewelry during physical activity like weight lifting, yard work, cleaning or swimming can cause serious, sometimes irreversible damage. The chlorine in swimming pools is notorious for tarnishing silver. Weights can bend rings out of shape and necklaces can get caught during physical activity, causing chains to snap. Rings, the most popular jewelry item for men and women are subject to a lot of wear and tear. Hankin recommends taking off rings when sleeping. "Wearing rings for a long time causes a build up of the bacteria between the ring and skin and can cause a rash."
INSURE IMPORTANT PIECES:
Proper maintenance on fine jewelry pieces will all them to perhaps become heirloom items, but sometimes even the highest level of attention isn't enough. "Anything over $2,000 we recommend our customers consider getting insured," Hankin says. Insuring jewelry will allow you to restore it in case a stone is lost or the piece is damaged or stolen.
GET THE PRO TOUCH:
Professional cleaning is not the only service jewelers offer. For new life, take in items that are scratched or just a bit dull. Gold is a hearty metal, but it can be polished if needed on a jewelers wheel. White gold that is experiencing gold bleed through can be replated with rhodium. And if your watch crystal is scratched or a stone is loose on your favorite ring, a jeweler can swap out the crystal or reset the stone.
IF YOU DON'T KNOW, ASK:
Jewelers are always happy to answer questions.