Lacy and Jay Pray for Rain
Lacy and Jay Pray for Rain
Posted on Friday, February 9th, 2018 at 10:08 am by Haley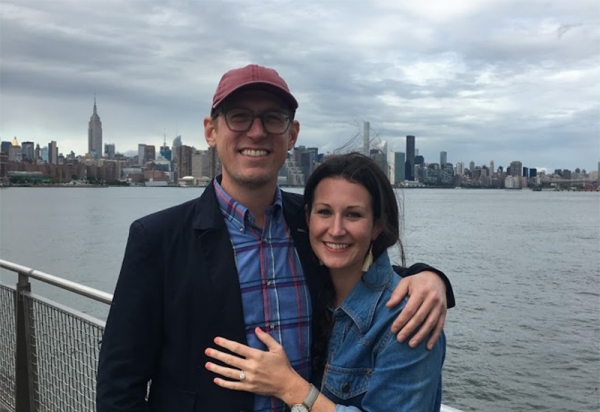 Lacy Williams and Jay Gulley became believers of the saying, "it was love at first sight," when they met each other over three years ago at World Famous in downtown Athens. Both Lacy and Jay are graduates from the university, and it was their love of the school's team that ultimately brought them together and led them to where they are today.
Jay, who was in a band at the time, had plans to watch the Georgia Bulldogs' football season opener at The World Famous in downtown Athens along with one of his bandmates. Lacy also had plans to watch the same game, at the same restaurant, with Jay's bandmate. Once they were introduced, they knew right away that they wanted to spend more time together.
The couple had a chemistry right away and their relationship soon became serious. At the time, Lacy had been looking for a home to purchase in Athens, and as fate would have it, Jay is a realtor. Jay helped Lacy to find the perfect home, and now they will be able to live in it together as newlyweds once they are married.
After a few years of dating, Jay and Lacy knew that they were ready to take their relationship to the next level. Lacy had envisioned where her ring would come from and how her proposal would unfold, but plans were changed after walking by a local jewelry store in downtown Athens, Tena's Fine Diamonds and Jewelry. Lacy heard so many great things about the store, and because she worked in the downtown area and had seen the store multiple times, she decided to go in. She loved the idea of wearing an engagement ring from a local store, too. A staff member at Tena's named Tammy helped Lacy build a wish list of rings that Jay would choose from just days later.
Now that Lacy had her dream ring picked out, it was all on Jay to make his move. It didn't take Jay very long to know that he was ready to purchase a ring for the woman he loved, and he even had a plan on how he would propose.
The couple took a trip to Brooklyn, New York, the same weekend of the Bulldogs' 2017 opener game. Just as they had found themselves three years ago watching the game together, here they were again, but this time they were alone, and it was the perfect time for Jay to ask Lacy to be his wife.
While Lacy got dressed that Sept. 2 night, Jay snuck the newly purchased engagement ring in a pile with all her "everyday" jewelry. Jay waited and watched Lacy as she got ready for dinner, and walked over to put on her jewelry. When she realized the ring was there, Jay got down on one knee and made both of their dreams a reality. Lacy couldn't have been happier that she was newly engaged, but also that Jay had decided to make this moment perfect by tying the Georgia Bulldogs into their private engagement.
When Jay walked into Tena's of Athens that day, he knew he was prepared to purchase the perfect ring for his soon-to-be fiancée, but what he didn't know was that he would be walking into a store that features the national campaign, Pray for Rain. The Pray for Rain campaign encourages engaged couples to "pray for rain" on their wedding day because if it rains one inch or more, the store will reimburse the couple with an in-store credit for the amount they paid for the engagement ring up to $5,000.
The couple hasn't decided on what they would do with the store credit if their rain wishes come true, but an upgraded band or diamond may be an option. For now, the couple is just so thankful to have had a local store like Tena's that was able to make their engagement a moment they won't forget. And now, Lacy is busy planning all the wedding details and is ready to become the future Mrs. Lacy Gulley.
Tena's Fine Diamonds has been serving Georgia since 1965, and with four locations – Athens, Elberton, Hartwell, and Washington – the jewelry store continues to help couples like Jay and Lacy make their wedding dreams come true. For more information about Tena's, please visit tenas.com.
Pray for Rain is offered at all four Tena's locations. The original purchaser of the engagement ring will be reimbursed with an in-store credit if the rainfall, measured by WSGC'S airport rain gauge, reaches one inch or more. The rain is measured within a 24-hour period on the day of the couple's wedding. If you are interested in learning more about Pray for Rain, please visit one of the Tena's locations.