Nominate Mom to be one of Amy's GEMS
Nominate Mom to be one of Amy's GEMS
Posted on Tuesday, April 17th, 2018 at 10:38 am by Haley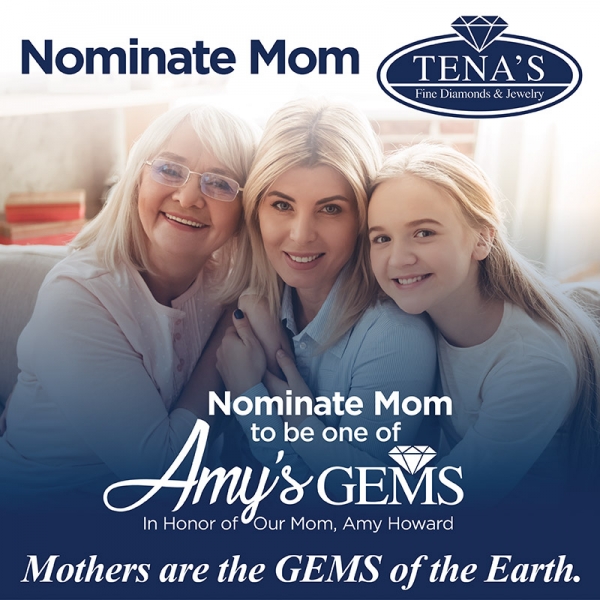 Every Mother's Day is special at Tena's Fine Diamonds and Jewelry. The compassion and vision that was provided for years from Amy Howard, mother of our current three owners Debbie Jackson, Sandra Brown and Jeana Worley, was immeasurable in worth and her legacy continues to drive our current success.
In her honor, Tena's will be celebrating Mother's Day by activating its new campaign, Amy's Gems, that allows customers to *nominate a woman who they feel deserves to be rewarded for their role as a great mother. Each one of the winners will be chosen as one of Amy's Gems, and they will also be honored with a gift from the store.
The three sisters always noted their mother's generous and kind character along with her ability to lift the spirits of those around them with laughter. We hope to see nominations of mothers who exemplify these traits in their very own way to those around them in their respective lives. "Our mother meant so much to us, and she is the reason we are in the jewelry business," the sisters said of their mother.
Amy purchased the first Tena's Jewelry in downtown Washington, Georgia, from Tena and Gene Corry in 1977. Having the vision for expansion, Amy transformed three old and abandoned buildings into the larger and modernized facilities that we see today. Debbie, Sandra and Jeana would come home periodically during breaks in school to work part-time positions, depending on the time of year. As each of the sisters finished college, they came home to work full-time for their mother until completely taking over once she passed away in 1995.
Amy will not be forgotten, and her influence is still present at Tena's Fine Diamonds and Jewelry. The three sisters learned so many valuable lessons from their mother, and that is why the Amy's Gems Mother's Day campaign is means so much to them. "We are excited to be able to give a special gift to a mother who means so much to another family," commented the three sisters.
Tena's Fine Diamonds and Jewelry has four locations in Georgia—Athens, Elberton, Hartwell and Washington. A winning mother will be chosen for each store location. Amy's Gems will run from April 23 to May 10. To nominate your mom, or a mom you know, submit why you feel they deserve to win to on one of the Tena's Facebook pages beginning April 23. The sisters plan to add new "Amy's Gems" to the campaign each year. For more information about Tena's, visit www.Tenas.com.
*Nominated mom must not be deceased so that she may receive the prize.