Vera and John Pray for Rain
Vera and John Pray for Rain
Posted on Monday, April 16th, 2018 at 9:43 am by Haley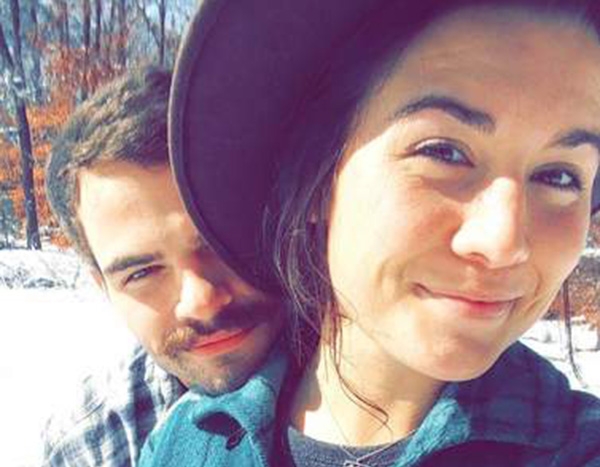 Although John Reese Fortson and Vera O'Sullivan lived in Georgia, an hour and a half away from each other their whole lives, they met and fell in love over 2,000 miles away. John worked in Big Sky, Montana, in 2016, but returned home last year to do some fly-fishing. He ended up catching more than fish.
John and Vera first saw each other in Montana while they were both moving into a bunkhouse on the ranch. John was admiring Vera, and at the moment, he thought the admiration was mutual. As it turns out, she was just trying to figure out who 'the guy' was moving into "her" bunkhouse. Later that night, they had a chance to formally meet. John said he knew within five minutes that Vera was his future wife. Their time in Montana in 2017 was the start of something special for them both, and in February 2018, two days before Vera's birthday, John proposed.
He rented a cabin for the weekend in Amicalola, Georgia, and invited some friends for a "party". Little did Vera know, it was just a cover up for his proposal. Saturday morning, John and Vera went to pick up groceries while his friends set up a GoPro camera and lights on the front porch. When they returned, John convinced Vera to leave the groceries in the car, led her to the porch, and recited a line from a favorite series, J.R.R. Tolkein's Lord of the Rings, "I would rather spend one lifetime with you, than face all of the ages alone." John got down on one knee and asked Vera to be his wife. She eagerly said yes.
John proposed with a beautiful ring from Tena's Fine Diamonds and Jewelry. John and his mother, with assistance from Tena's staff member Tammy, picked out a setting that fit Vera's taste and could accommodate three stones: one from his mother, grandmother and great grandmother.
John was happy to purchase his ring from Tena's because they treated him like family and have a location in Athens, a city he grew up loving and home to his alma mater, the University of Georgia. John's purchase was made even more special by Tena's Pray For Rain. The national campaign encourages engaged couples to "pray for rain" on their wedding day because if it rains one inch or more, the store will reimburse the couple with an in-store credit up to $5,000.
If it does rain on their wedding day, John says he's going to buy something nice for his new fiancée and his mother. For now, the couple is focusing on John's graduation from UGA in May, planning their dream wedding and getting back to the ranch in Montana.
Tena's Fine Diamonds has been serving Georgia since 1965, and with four locations – Athens, Elberton, Hartwell, and Washington – the jewelry store continues to help couples like John and Vera make their wedding dreams come true. For more information about Tena's, please visit tenas.com.
Pray for Rain is offered at all four Tena's locations. The original purchaser of the engagement ring will be reimbursed with an in-store credit if the rainfall, measured by WSGC'S airport rain gauge, reads one inch or more. The rain is measured within a 24-hour period on the day of the couple's wedding. If you are interested in learning more about Pray for Rain, please visit one of the Tena's locations or online at tenas.com/pages/pray-for-rain.